-Synex- Black Ops Zombie ::Trainer:: (Alpha) Version 0.5
This is an early version of my Zombie trainer tool, I've been working on this for a few weeks now, and just decided to release an early state of the program so that people may suggest ideas and improvements.
Take it easy on this one, it's my first release and I know there are tons of trainers out there already, but there is only a few that actually work. I'm making this partially to gain more knowledge in vb.net, but also to give something from myself to this community.
VAC Status
This program will NOT GET YOU BANNED when using it inside BlackOps.exe. You can use this in Solo Zombies and Online Zombies Without getting banned, however just for extra safety precautions make sure you set inside your config file vac "0" just in case.
Rumours say it's just a ghost Dvar (Fake), but I don't know about that, place it to 0 anyways.
Disclaimer:
This program was made by me "Angelchev" (Synex is my Steam Name) and you can only find this tool on this forum, posting this to another forum without permission is not allowed. I do not guarantee this tool will not get you banned, but I've being hacking ever since black ops came out, and I'm still going.
Requirements:
Microsoft .Net Framework 3.5 or above
Windows XP/Vista/7
Call of Duty Black Ops (Steam Version)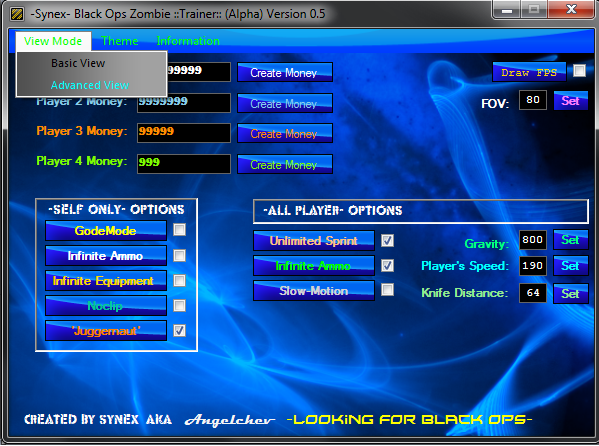 Features:
- Godmode (Invincible to Zombies)

- Infinite Ammo (You Only)

- Infinite Ammo (All players)

- Noclip (Fly Around threw walls)

- Juggernaut (Gives you the juggernaut perk)

- Stamin Up (Gives everyone the Stamin Up perk Working for all maps)

- Editable Money for all players

- FOV Control (Editable Field of Vision)

- FPS Viewer (Frames Per Second Viewer)

- Gravity Controller (Editable Gravity level)

- Unlimited Sprint for all players

- Slow Motion Mode (Slows the timescale to half the speed)

- Commando pro (Gives everyone further knife distance)

- Knife Distance controller (Free Edit to every players knife distance)

- View Modes: Basic View/Advanced View

- Theme Selector (Containing 3 Themes Created Completely by me)

- Credits Section

- Warning Section

- Help Section

- Black Ops process Checker (Checks if Black Ops is on, and informs you)
Known Bug/Issues
- When giving yourself the juggernaut perk through the trainer, the game screen does not show you actually have the perk (This can't be fixed) but you can buy the juggernaut perk leaving you with double juggernaut without causes crashes too. Warning sometimes the juggernaut option may not function correctly/as intended inside the game.
- The Trainer may crash when Black ops is exited. By exiting the trainer first then black ops prevents the trainer from crashing upon exit.
--->I have many ideas and Features that I am yet to implement inside until the final release, but please if you have suggestions or possible improvements then do say something. Please don't judge this bad, it's not great I know, but this is only an early state, a later Beta version will be released until a Final Proper Release (Version 1.0)
Credits:
Blub1337 – For being really friendly and helping me realize stupid mistakes I was making.
Master131 – For not rejecting me as a 'noob' when I asked for simple help on searching values
**** – For being what it is.
Angelchev (Synex) – For creating this tool and releasing it to the community.